Your Video. Your Way.
Impress. Engage. Boost your reach with branded LIVE videos.
Take Free Trial

Create Video Anytime
Video is the most effective way to put social media and advertising to work for you.

Keep Sharing
Drive your story and message to everyone who matters including clients, potential customers, and staff.

Create like pro
Time is money. Get results fast.We makes it easy to produce incredible videos results that rival big-budget productions without the expense and delays.
Make video Live like Pro.
Easy to use interface for branding, modifying a LIVE video
Watermark

Branding, Banners

Text, Video Scrollers

Promo Banners on Video

Multi Video Spliting

Run to Multiple handles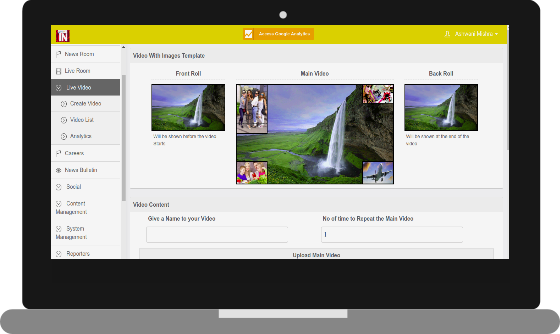 Have a look at few demo videos
Choose a plan that suits your needs (EXCLUDING TAXES)
Yearly Plans
Rs 70,000 Per Year
1200 Live Video Hours
Yearly Plans
Rs 50,000 Per Year
600 Live Video Hours
Yearly Plans
Rs 36,000 Per Year
300 Live Video Hours
Yearly Plans
Rs 24,000 Per Year
120 Live Video Hours
Yearly Plans
Rs 18,000 Per Year
60 Live Video Hours
Monthly Plans
Rs 7,500 Rs Per Month
100 Live Video Hours
Monthly Plans
Rs 4,000 Per Month
40 Live Video Hours
Monthly Plans
Rs 3,000 Per Month
20 Live Video Hours
Monthly Plans
Rs 2,000 Per Month
8 Live Video Hours
Monthly Plans
Rs 1,000 Per Month
3 Live Video Hours